Security Screen Doors and Windows
Safety Screens | Seriously strong screens that let the breeze in and keep intruders out.
Super strong, stainless steel mesh security screens that look stylish, keep insects out and won't break!
Why Stainless Steel Mesh Screens?
They're secure and strong to prevent intruders
They are guaranteed to last for 10 years
They won't sag, or tear, making a beautiful upgrade to your villa
They keep insects out
They keep harmful UV rays and heat out
They are 'powder coated' meaning they will never rust or corrode
They are "pet proof" so your dog or cat's claws won't tear them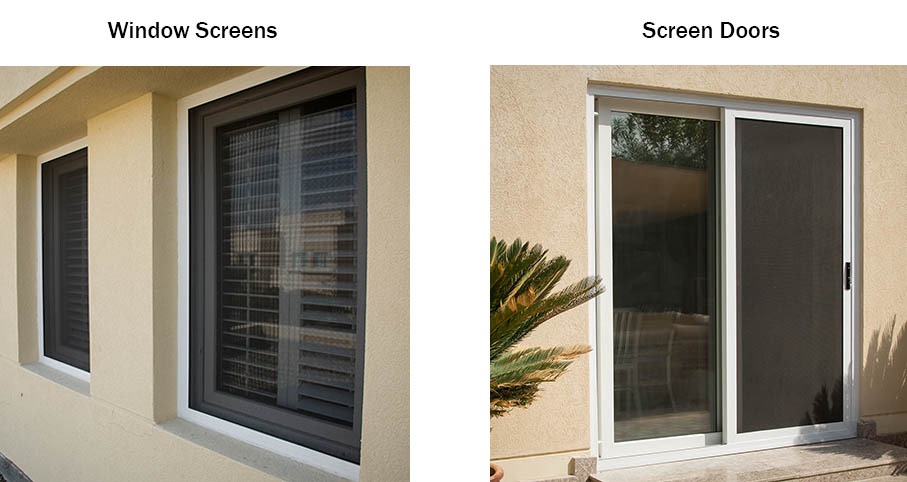 The best way to stop bugs and intruders in your villa
At Safety Screens we custom build and install premium high grade mesh screen doors and windows in place of those flimsy fly screens that just don't survive in this climate.
Sleep easy, and enjoy the fresh winter breeze, knowing your loved ones are safe and secure
Our mesh screens may look like ordinary insect screens, but the stainless steel mesh passes tough Australian Standards tests including Dynamic Impact, Knife Shear, Jemmy and Durability testing ensuring your security and peace of mind.
They're made using a patented system so that the screens offer the protection of steel, a barrier for bugs, and a perfect view.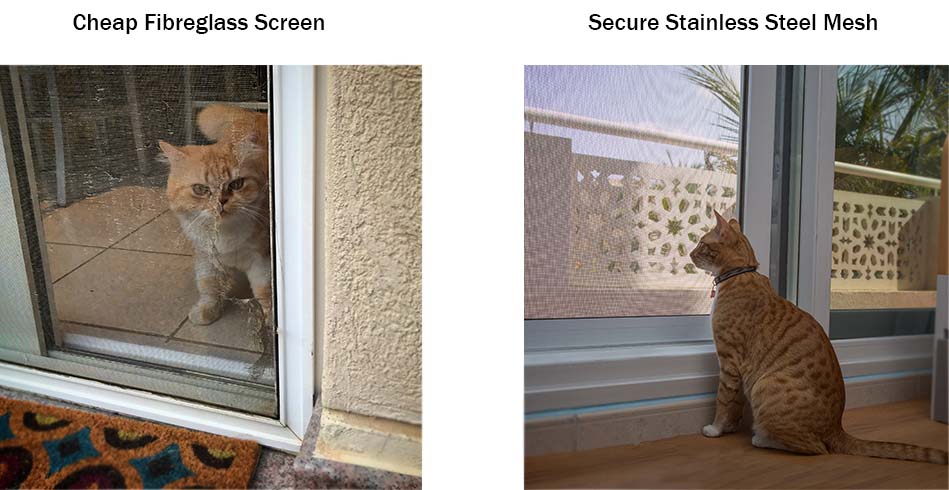 No intruders, no bugs, no worries
No more torn fly screens…
The dog can't run through it, the cat can't tear it, and most importantly, unwelcome intruders can't break into your home, bringing peace of mind to you and your family.
Our screen doors and windows come in a range of designs to suit your home or building facade.
They're easy to see through and they'll enhance your villa's architectural appeal.
They are a long term investment in your home, comfort, and security.
With an industry best 10 year warranty, you can't go wrong.
Contact us today to arrange a free quote for the toughest screens on the market.
The screens are incredible strong, difficult to cut through and are secured with a 3 point lock system.
Each Safety Screen is designed and developed to protect against common break in methods.
They pass and exceed stringent security door testing including a knife shear test, salt spray test and impact testing.
The main components of the doors and windows are finished with a high quality electrical charged powder coating to ensure corrosion resistance and exterior good looks. The locks and handles are also subjected to durability testing having to pass a functional 50,000 cycle test. All this is to ensure your screens are the most durable on the market and will last at least 10 years.
What Our Customers Are Saying
Love our safety screens! James and his team are very professional they put a lot of time and effort into making sure they do a great job. The screens are custom made and look amazing! Very happy customer
Mehroana
Arabian Ranches, Dubai
Loving the quality of the screens and being able to have fresh air flowing through the villa day and night. Great product, excellent locking mechanism & security, and, above all, incredible service.
Great product, the screen mesh is high quality, and the service delivered by safety screens is incredible. A Professional team which took the time to fit the frame and make custom adjustments when necessary. The end result exceeded expectations. If you need a mesh door or frame, these are the guys to call.
Abdullah
The Springs, Dubai
Great product & service. High quality. With this product securing access, allowing fresh air in but keeping the bugs out, I am happy to leave my child's patio door open at night during cool evenings.
Safety Screens are manufactured to the highest quality controlled standards. The raw materials are manufactured by Meshtec International, the global leader in high tensile stainless steel security screens. There products are used around the world in both residential and commercial applications.
The high tensile, woven, stainless steel mesh has been powdered coated and tested to resist the harsh Middle East environment. Meshtec is an ISO certified company with an internationally accredited laboratory that conducts ISO certification testing.
Should you have any problems with your Safety Screens, we offer a 10 year warranty on all stainless steel mesh and aluminium products and 1 year on component parts. With a very small amount of maintenance, your Safety Screens will resist the elements and maintain their great look for years to come.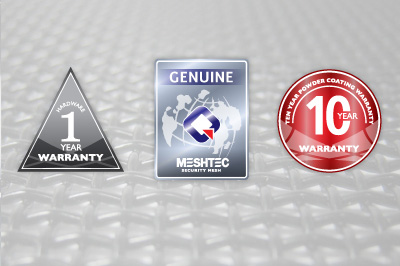 At Safety Screens we come to work each day to solve a problem that bothered us for years. That was how to stop our fly screens from constantly breaking. Each year we were replacing our flimsy insect screens only to have them break again when our kids put their hands through them!
Having installed stainless steel mesh screens in our home back in Australia, we decided we'd like to install them on our villa in Dubai. After much research we realised these types of screen doors and windows weren't available anywhere in the UAE.
It was then that we decided to start up Safety Screens to introduce this great product to the UAE.
We are passionate about mesh screens and wanted to make them available to everyone in our adopted country of the UAE. We're also excited that due to their robust construction, the screens not only keep out insects but provide an increased level of security. Many Safety Screen owners now sleep with their glass doors and windows open as they use their mesh screen as their security barrier. This is a great way to enjoy a natural breeze during the cooler months.
We hope you to will also enjoy the benefits of a robust mesh screen on your home or office today.
Recent feedback for a more affordable fly screen, specifically for tenants, has now seen us open FlyScreens.ae, a sister brand focused on pleated fly screens and roll-up screen doors and windows.
Please feel free to contact us to arrange a free measure and quotef or either the safety security screen or pleated screen. We look forward to protecting your assets
The new standard in window and door security